A Quick History of Retail Health
In the mid-2000s, I was part of a disruptive movement in healthcare to build nurse practitioner run clinics within grocery store settings. These clinics, called convenient care clinics (CCCs), in essence, are limited in scope (acute care, minor illnesses, and preventative healthcare services) and located in retail stores, supermarkets, and pharmacies. The idea was that the market needed to expand distribution of these types of services to meet demand and that by building them in locations close to where people live and work, and not require an appointment for  medical care. This movement was dubbed Retail Health at the time and led by Minute Clinic, Take Care Health, and others. I helped three of these CCCs – two were quite successful, one not so much.
Retail Health disrupted again when insurance companies started building retail stores to attract consumers and sell their insurance products. To my knowledge, the first of these was done with the largest insurer in Florida. I was at Florida during the expansion of these stores and saw them grow in both usage and size. They started out in the 800sq. feet range and now are free standing 5000 sq. feet buildings. The idea here is that a company that is facing a shift to a retail market as a means to establish positive brand awareness directly with consumers by creating a retail location where customers can buy and receive service for their insurance products.
Selling Insurance to the Consumer Market
Since the first store was created, many have followed suit, albeit with differing store footprints and models. Some of these are UnitedHealthcare, WellPoint (Anthem), Highmark, many of the blue plans, and Humana. Humana actually started with a partnership with Max-Wellness stores and opted to try a different approach.
Could this be the equivalent of the beginning of the "burger wars"? What is also telling is the number of large and regional insurers that are in a "wait and see" approach – not yet ready to commit the resources to a direct retail footprint. I would expect to see others follow suit in the coming years, but with a mix of smaller and kiosk-related storefronts. GuideWell has also innovated even more by creating one of its retail centers as a member clinic under the blue umbrella. Early signs look like this idea is getting a good reception by members.
These retail "centers" are designed to sell to individual consumers. Companies that are pursuing this channel as a key element of their consumer strategy feel this model provides three competitive differentiators:
Reduce Sales Cycle
1. It shortens the sales cycle – Buying insurance is confusing, and even frightening to many. It is an expensive product with little consumer understanding, and poor "user documentation." Having a high-touch sales rep there to explain all of the options and implications will create a better sales experience for the consumer and in all likelihood shorten the sales cycle.
Reduce Post Sales Service
2. It cuts down on post-sales service – because consumers are in theory more informed about the product they have just purchased, post sales service should correspondingly be less. Ask any insurer and they will tell you – it is expensive to provide customer service for their products. The current model is equivalent to a doctor treating the symptoms as opposed to the source of a sickness. Regardless of industry, most service issues are a result of poor consumer information leading to lost expectations.
Increase Consumer Trust
3. It creates a high level of trust – Health insurance is not a high margin business, and new regulations are greatly restricting how much insurers can make and spend on non-medical related costs. For insurers to make the revenues they need to survive, they must sell additional, or "ancillary" products. Upselling directly correlates to consumer trust. No consumer will buy more from a vendor that has given him or her a poor product or poor experiences. If the high touch environment is better at informing the consumer about the product, which leads to better satisfaction and usage of the product, it stands to reason that trust will be increased as well. With more trust comes the opportunity to upsell. This is true in any retail market.
Useful for Small Employers
These retail stores also make a great outlet to serve small business. With the implementation of the Reform Act, it is highly anticipated that most small employers will send their employees to find insurance on the exchanges. In this environment, retail centers can be a real benefit to individuals who in many cases have never had the advantage of a fully dedicated HR manager or benefits advisor helping them with their healthcare decisions. The centers in effect can become an outsourced human resources department, wellness center, and benefits advisor all in one.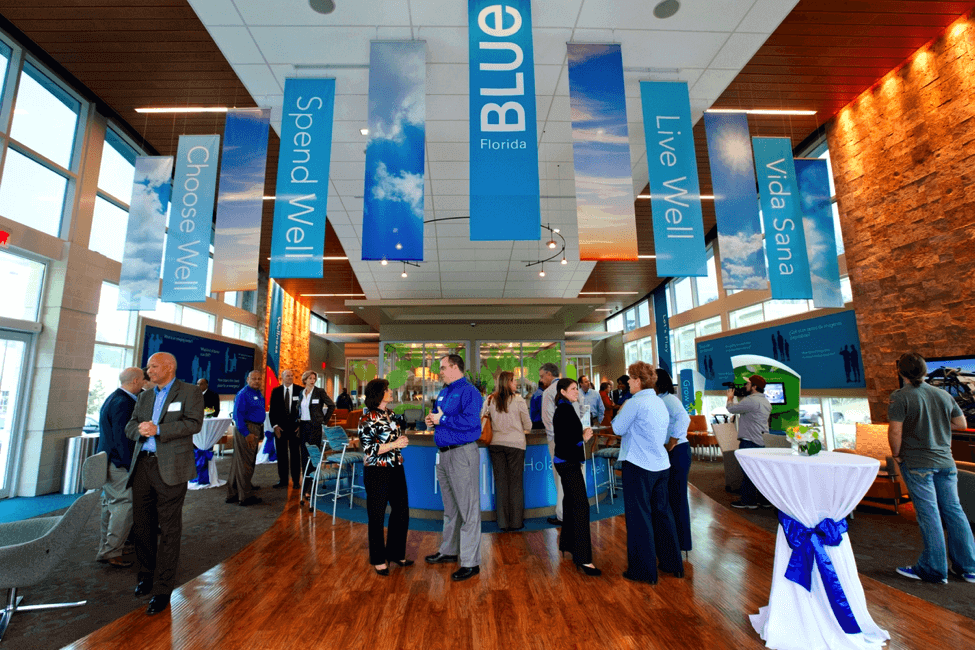 Disrupting the Disrupters
So where is this trend headed? I had the opportunity to give some market advice to an interesting retail health startup out of Tennessee called Bernard Health. The basic gist of their model is to sell insurance directly to consumers via retail outlets through salaried sales reps, not commissioned sales and service reps. They are concentrating on the Medicare Market.
These retail locations are similar to ones created by the insurance companies but different in two major factors. First, they are not selling their own product. Second, is their store footprint.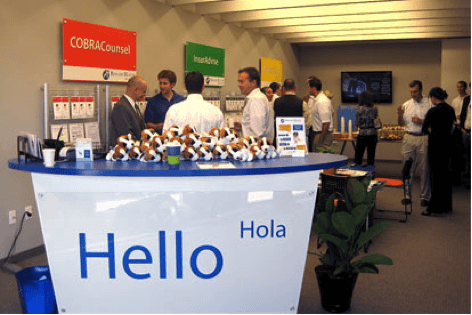 The Best Insurance Product for Each Customer
On point one, because they are selling the best product available for the customer they are working with, and not their best product, they, in theory, have a higher trust factor with the consumer. Couple this with the fact that their reps are salaried and not commissioned, and you have an interesting model. When last I spoke with Bernard Health, they were tracking 50 appointments per month, which was on par with traffic seen by benchmarking against similar retail settings, like a Jackson Hewitt store. It would be interesting to see the close ratio per appointment of their sales team versus a branded store by one of the big insurers. Do shoppers at the branded insurance stores purchase the product available because they like Trane, or do they go to get information and then comparatively shop it elsewhere?
Built to Be Profitable
The second difference is the store footprint. I know some of the blue retail stores in Florida are in the 5000 square foot range. They are quite nice. And their experience is a good one. Compare this against Bernard Health's much smaller retail location. I am not certain you can even sell enough individual plans to pay for the large, or every medium sized store but perhaps they offer a better channel for customer service. Most insurance companies rate in the 70% satisfaction range for the call centers. These retail settings are much, much higher.
Are These a Good Idea?
Will they have any success? This profitability is yet to be seen. They do not have the marketing budgets that the majors have, but they have the "trust" advantage on their side. Insurance is one of the least trusted industries in the country. Having a non-biased advocate to help you make sense of the system may be just what the doctor ordered. I wish Bernard Health, and all of these retail health efforts the best of luck and a prosperous 2013.
To your health,
The Team at imagine.GO